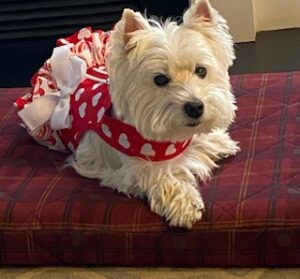 Happy National Dog Day! Dogs are a special part of a person's life, they offer an abundance of love, and constant companionship. That's why today Dr. Martin is celebrating her cute little dog, Lucy, a West Highland White Terrier--"Westie" for short!
Lucy has been a member of Dr. Martin's family for 7 wonderful years. She was a puppy mill rescue Dr. Martin adopted at the age of 4. Dr. Martin named her Lucy because she has a funny personality, so she's named after Lucille Ball from "I Love Lucy"! Her nickname is Lulu!
Life with Lucy is full of laughter, love, and sweetness! Dr. Martin previously had a Westie, and after several years she was ready to adopt another and found a local rescue that had a Westie. She is a happy little dog with a funny personality that constantly makes Dr. Martin laugh. Sometimes when they are walking her leash gets wrapped around her tail and she will hop and dance around! Also, not long after Dr. Martin first adopted her, she took Lucy to the dog park in Wake Forest, and the look she gave her when she realized she could run free off the leash, was priceless! 
To celebrate Lucy, Dr. Martin is going to treat her to extra Carrots and extra belly rubs! Though honestly, Dr. Martin enjoys spoiling Lucy a little every day. 
If you are considering adding a dog into your life, Dr. Martin advises that you take it seriously and look at the time commitment it takes to be a good pet owner, especially if you want a puppy. Puppies are cute and fun but please consider adopting a dog in need, even a senior dog. There are so many great senior dogs that get overlooked that need a home. 
We hope all you dog lovers out there have a wonderful National Dog Day!